Design Decisions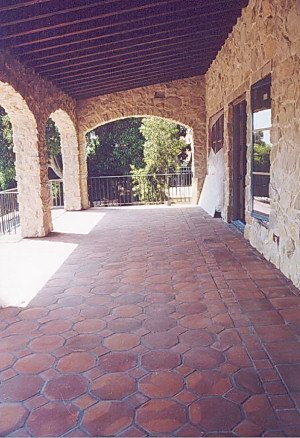 12×12 and 4×4 clay floor tile in a patioConsiderations on selecting a particular finish for your handmade high temperature wood-fired terracotta clay floor tile consist of the following:
Is the floor an interior or exterior surface?
What level of gloss is desired?
What color hues are desired?
What traffic will the floor be subjected to?
What level of maintenance will be required?
Interior Floors
If the floor is an interior surface, the choice of finish is less critical than for an exterior surface that might be subject to rain, overspray from sprinklers, abrasive dust, sun, or other environmental factors that are more abusive than that encountered with an interior setting.
Exterior Floors and Decks
Because of the more abusive environmental factors listed above, and because of the hazards imposed by a wet, slippery walking surface that might be encountered on an exterior floor or deck, exterior finishes should have a frictional resistance, when wet, that minimizes the possibility of slipping. An exterior finish should also be resistant to deterioration due to ultra violet light from the sun, failure due to the action of chemicals found in pool water or agricultural treatments such as water-born fertilizer chemicals, and other caustic chemicals found in an exterior environment.
Floor Gloss Level, Foot Traffic Patterns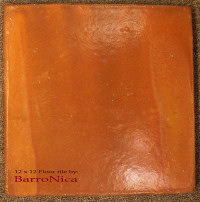 12×12 finished clay floor tile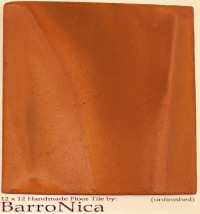 12×12 unfinished clay floor tileThe finished floor gloss level ranges from high gloss to completely flat. Between these two extremes is the satin wax finish which is most often specified. Gloss level is controlled by both the finishing product used and the number of coats of that product that are applied. With a handmade clay tile, the unfinished surface can range from smooth to very rough, with rougher surfaced tile being reserved for those areas needing exceptional frictional resistance such as in driveways. Sources such as BarroNica Building Products, Inc. (www.barronica.com) are able to provide this wide range of textures in response to usage specifications.
The use of a final application of paste wax, on top of a multi-coat polymer finish, is a process by which the rich luster of a wax finish can be accomplished. This final coating of wax also yields a floor that is easier to maintain, as foot traffic develops walking patterns in the finished floor. A quick machine buffing and, where necessary, an application of a small amount of paste wax, eradicates the appearance of a traffic pattern on the floor surface.
Color Hue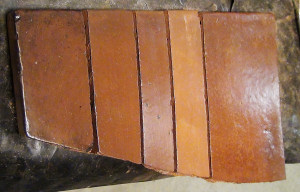 Tinted clay floor tileWhile the natural colors obtained from high temperature wood firing of handmade clay tile offer a rich range of hues, there are times when the installation calls for a tightening of that range. This can be accomplished by the use of a tinting compound either applied directly to the unfinished tile prior to finishing with a clear finish or mixing the tint directly into the first finish coat. Testing on sample tiles is essential since, once the tint has soaked into the tile's surface, it is very difficult to remove. It is recommended that the services of a professional tile finisher be employed. Whether these services are used or you attempt to do the finishing yourself, experimentation with different types of tints, as well as mixtures of different tint colors, is highly recommended.