Do you have any idea to uplift the status of your home? Well, you can do many things for that. Changing the colors of walls, furnishing the interiors with decorative items, arranging beautiful flower arts etc. are some of the ways that give a new improved appearance to the entire home. Usually, the staircase is a feature that enhances the majestic look of a house especially when it's studded with finely-finished, vibrant, stylish tiles. The color element of the tiles you select to install the staircase matters a lot in making your home a pleasant place to live in. And even the rails of the staircase must be built using quality materials. Tiles arranged in magnificent designs create an eye-catching picture that pleases everybody.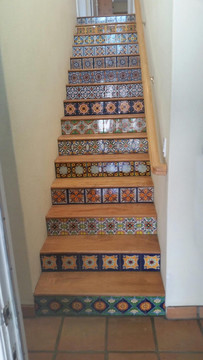 The most visible part of the staircase is its raisers. The colors, designs and the quality of the tiles used to create the raisers play a major part in home décor. You have to take great care in grouting too. When you select the tiles for the raisers, you've to do a careful selection since the tiles must be extremely beautiful and perfect to give a fresh look to the finished work. Mexican Talavera tiles would be fine to make your raisers glitter. You may wonder why I recommend Talavera tiles to be used in installing the raisers with. They are colorful, fine and durable. And they're worth buying for the price offered due to their fine finish, excellent quality and the long-lasting property. Also, the rustic look and elegance they add the entire place could never be expected from most other varieties available in the market. They serve the decorative purpose in 100% and the lush new look given by them is something exceptional. That rustic, traditional feeling you get from Talavera tiles is really a unique, specific feature you find only in them. Here are a few reasons why you should make this wise option of selecting Talavera tiles for raisers.
Hand-made and hand-painted perfect quality
Mexican Talavera tiles are the end result of a prolonged, hard, manual labor which is quite rare in the modern industrialized world all done with machinery. Each and every tile is hand-painted and has the touch of skilled artists that often take pains to send a perfect product to the market.
They produce tiles of various geometric shapes
Usually, tiles are square-shaped. But Mexican Talavera tiles are made in a few other shapes too. Rectangular ones are preferred by clients to be installed in patios and open areas. And hexagonal tiles are a fine match for shrine rooms and such religious places. They create a different picture other than just the common square tiles which are available everywhere. And the prevailing rustic look of Talavera tiles is further improved by that unique shape. Square-shaped tiles are suitable to tile the floor in sitting rooms and bedrooms. Their simplicity makes a calm and serene environment throughout the place.
Talavera tiles establish a timeless comely appearance to the entire area adding a traditional touch too. Therefore, when you buy tiles for the raisers it's advisable for you to go for Mexican Talavera tile products since they're a perfect match for any home of any style. Especially, Finecraftsimports.com is a company that sells super quality Talavera tiles. They have decorative tiles specially meant for raisers. Their designs are varied, specialized and with lots of vibrant colors. As you prefer, you can use either a single design or a few outstanding colorful patterns to make your raisers cut a figure among hundreds of other patterns you've seen in your friends' houses.
Do you like to do the tiling process on your own? If you do, you'll have to be a clever DIYer. But everybody cannot do it successfully. And after all, tiling vertical surfaces is a bit harder. If you fail in that, the whole project will be a loss and a waste of money and time. So, I advise you to get a skilled worker to do it nicely. Tile workers are seasoned to carry it on very well and they have the knowledge and experience of how to make the proper layout cutting and setting the tiles in the correct way. In fact, those things are the key factors of the whole process that paves way for a long-lasting installation. On your part, you've only got to spend a few hundreds of bucks from your pocket to pay for the workman. But it's nothing when you think of the excellent finish and the great change it makes to the entire home.
Using a separate design for each raiser
It's fresh and outstanding to see different styles of tiles in each raiser. Usually, people tend to install tiles of the same design to the entire house. That's a bit outdated. Variety is something preferred by all the human beings. So, using tiles of different styles to coat the same stairway will grab everybody's heart. Such revolutionary thinking is in high demand in home decorating. Day by day, great changes happen in this field. So, trying out novel ways means something creditable. Most preferably, all these patterns and ideas are just a perfect match specially for Spanish style homes. But it doesn't mean that these are not suitable for others. Neatness and elegance are common features in this kind of home décor. So, the designs done with tiles go with any home or any apartment all over the world.
Whatever the materials you use for coating the raisers, the end product must be of sturdy built. And when it comes to talk about the colors, it's more practical and advisable to use dark color tiles. Light colors may look calm, serene and neat at the beginning. But they tend to get dirty easily with the time. Therefore, better to select darker colors since they withstand the climatic changes and natural phenomena. So long as they remain attractive, and unchanged, there will be lesser problems in your household.
.